WARNING
Tube amplifiers operate at high voltages which may cause property damage, serious injury or death. Proceed at your own risk. The content on this website is intended for informational purpose only.
15W Guitar Tube Amp from an old film projector

This 15W Guitar Tube Amp spent most of its career as a film projector. I stumbled across the projector at a local Goodwill store. Trashing old equipment isn't something I usually do, as I figure there may be someone, somewhere, who would like to restore this masterpiece, be it a little dilapidated. However, in this case I feel it's too far gone with fairly substantial structural damage and missing pieces.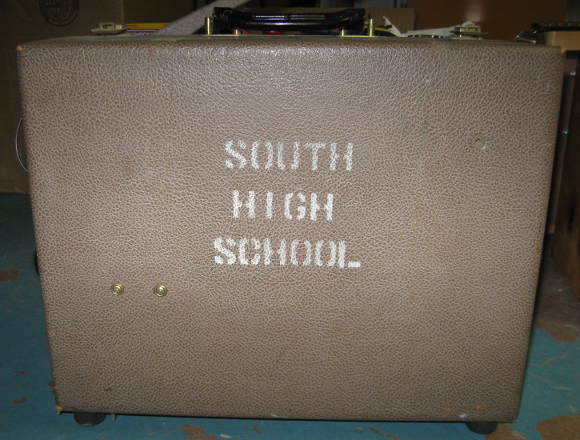 As can be seen in this picture, the Kodak Pageant film projector came from "South High School" somewhere in the USA
"Use, Reuse, Recycle" is a phrase of the new millenium, so here was an opportunity to reuse or re-purpose a hopefully functional part of this projector, i.e. its audio amplifier.

Do some Amp Mod Research
I must say, two articles are a must-read for anyone embarking on a tube amp re-purpose pursuit like this (links will open in new windows):

While the articles are packed with good information, they are both somewhat dated. The two articles focus mainly on converting PA or Mono Integrated tube amplifiers.
In the last several years, both PA and Mono Integrated tube amplifiers have become a lot harder to come by, for two reasons. First, by now most churches and bingo halls have upgraded to solid state equipment.
Secondly, information on the internet travel at the speed of light. A lot of people reading Joe's and Miles' articles are out there looking for a subject, so competition has gone up drastically. As an example, just the other day I saw a Dukane PA amp for sale at Fleabay for $800!!! This is far and away from the $40 Joe spent at the time he wrote his article...


PA Tube amplifiers are particularly well suited for conversion because the chassis and knobs are already laid out the way you would designing an amp head from scratch.

Amps like those on a film projector look a little different and calls for a rather non-conventional amp layout. As we'll see, they definitely have more potential for combos than heads.

Kodak Pageant Projector audio control panel
The Kodak Pageant Subject
In my research of this projector I have found that there were several versions sold over many years. At first glance, this particular model (the AV-154) has the perfect tube complement for a guitar amp, with two 12AX7 and two 6L6GB/C.

This is the Projector seen from the front. One reel arm is broken and parts are missing, including the cover with speaker.
It also have a proper power transformer insulating the chassis from the power grid. However, there were models made with different amps, notably with a pair of 35L6 tubes and no power transformers. These amps are potentially deadly due to the lack of insulation and the chassis being "hot". Unless you are qualified, leave those amps for someone else to monkey around with.

Assessing mods into a 15W Guitar Tube Amp
Moving on...modding the amp into a 15W Guitar Tube Amp, here is what needs to be done:
Fix: The socket for the first pre-amp tube is loose and needs rebuilding
Remove photo-eye and related circuitry
Add a power entry, power switch and fuse holder in the chassis
Add 1/4" Phono receptacle for input and speaker
Plan a re-cap
Rebuild power supply filter with new capacitors
Power up with a Variac to see what works and what doesn't. If the power transformer is dead, this becomes a recovery mission rather than a mod project.
Fix anything that is broken or just wonky
Plan for mounting into Cab
See about knobs function and plan on rerouting and/or reconfiguring
The mod continues here...
Schematic Review
Chassis review


Build, Build, Build...
---

AudioTinker.com › 15W Guitar Tube Amp
---
Feb 04, 18 05:23 PM

Speaker plans for download - free pdfs for DIY builders and tire kickers
---